Hancock County
Hancock County is the southernmost county in the U.S. state of Mississippi and was named after Founding Father John Hancock. As of 2010, it had a population 43,900 people. Bay St Louis is the county seat. Hancock County is a part of the Gulfport–Biloxi, MS Metropolitan Statistical Area. The county sits along the Gulf of Mexico and Louisiana's state line. This county is home to the John C. Stennis Space Center, NASA's largest rocket engine test facility. The U.S. Census Bureau states that the county has an area of 553 square miles.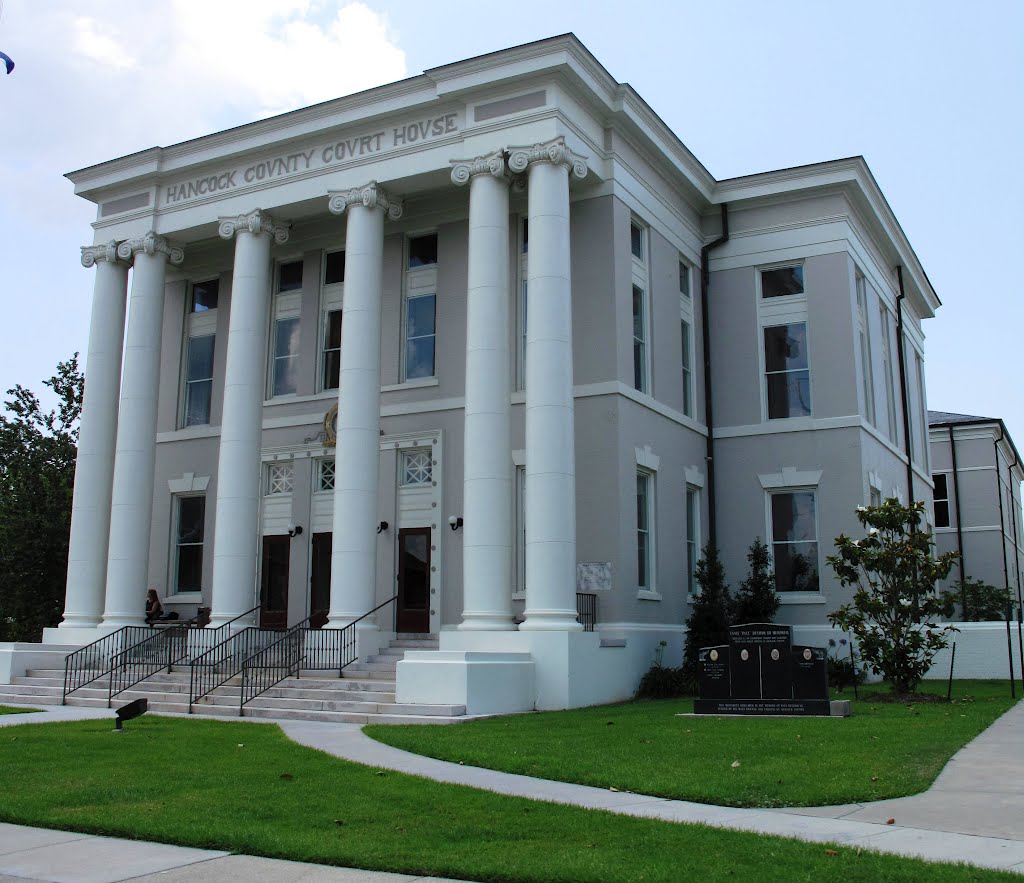 This county in Mississippi was first inhabited by indigenous people at the time of European colonization. The settlers, who were French, brought African slaves as laborers, and in time a Creole class of free people of color developed. In the 1830s, after the United States conducted Indian Removal Act, more Protestant Americans migrated into this area. Nevertheless, it retained French and African Catholic influences from its inhabitants. Since the county is located on the Gulf Coast, it was hit by hurricanes regularly. The residents of this region have learned to handle these incidents as best as they can, although Hurricane Katrina in 2005 caused extensive damage to the area.
The cities located in Hancock County include: Bay St. Louis (county seat), Diamondhead, and Waveland. Census-designated places include the towns of Kiln and Pearlington. Unincorporated communities include the towns of Ansley, Clermont Harbor, Lakeshore, Leetown, Napoleon, Necaise, and Shoreline Park. Ghost towns include Gainesville and Logtown.
Major highways in Hancock County include: Interstate 10, U.S. Highway 90, Mississippi Highway 43, Mississippi Highway 53, Mississippi Highway 603, and Mississippi Highway 607.
Adjacent counties and parishes to Hancock County are Pearl River County (north), Harrison County (east), St. Bernard Parish, Louisiana (south), and St. Tammany Parish, Louisiana (west).
There were 46,053 people and 20,036 households in the county as of 2020. The census also showed 13,081 families living there. The racial makeup of the county is 90.19% White, 6.83% Black or African American, 0.60% Native American, 0.88% Asian, 0.04% Pacific Islander, 0.33% from other races, and 1.14% from two or more races. 1.80% of the population are Hispanic or Latino of any race. The county's population was spread out, with 25.10% under the age of 18, 7.30% from 18 to 24, 28.00% from 25 to 44, 25.60% from 45 to 64, and 14.00% who were 65 years of age or older. The median age is 38 years. For every 100 females, there are 98.30 males. For every 100 females age 18 and over, there are 95.50 males.
The median household income in Hancock County is $35,202, and the median family income was $40,307. Males earned a median income of $32,229 whereas females earned $22,066. Hancock County has an annual per capita income of roughly $17,748. 11.20% of families and 14.40% of the population live under poverty line, including 17.90% children below 18 years old and 10.30 % above 65 years old. Hancock County ranks eighth in the State of Mississippi for per capita income.
For Hancock County information technology services, checkout Hancock County network security.