AGJ Recognized on CRN's 2020 MSP500 List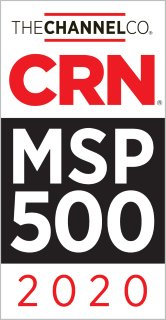 Gulfport, Mississippi February 18, 2020 – AGJ Systems & Networks announced today that CRN®, a brand of The Channel Company, has named AGJ to its 2020 Managed Service Provider (MSP) 500 list in the Pioneer 250 category. This popular list identifies North American solution providers that deliver operational efficiencies, IT system improvements, and a higher rate of return on investments for their customers. These accomplished MSPs work tirelessly to guide their customers and create solutions for complex IT issues.
This annual list is divided into three categories: the MSP Pioneer 250 who are focused primarily on the SMB market; the MSP Elite 150, large data center-focused on- and off-premises; and the Managed Security 100 made up of off-premises-focused, cloud-based IT security services.
AGJ has pioneered the use of innovative technologies that allow for the management, security, and responsive delivery of IT services for a large segment of the Coast's small-to-medium businesses as well as Municipalities, Ports, and the Federal Government. AGJ's involvement and investment in technology, education, and security are the cornerstones of its offerings and one of the key distinguishers between us and other technology businesses. The use of best-in-breed technology, coupled with world class support have resulted in the delivery of services leveraged and created to improve operational efficiency, security and to mitigate risk.
"MSPs are the critical bridge for customers looking to assess, implement and migrate their IT and cloud solutions to drive efficiencies, lower costs and secure your environment," said Bob Skelley, CEO of The Channel Company. "On behalf of our team at The Channel Company, I want to congratulate the accomplished companies on CRN's 2020 MSP 500 list and thank them for their commitment to finding innovative solutions that move the IT channel forward."
Brian Alford, AGJ's President stated, "The key distinguisher between us and our competitors is our commitment to not only providing the best product, but to being good stewards of the community. The client's success is our success and as they grow, we grow, but one thing we are ardently focused on is being involved in our community. It is exceedingly important for us to participate and engage in goals that accelerate not only the economy of Gulf Coast but also the standard of living. We firmly believe that we are in one of the most dynamic and friendly Communities in the World. It is an ideal place to work, play and raise a family and allow us to recruit some of the most talented and best minds in the business today.
The MSP500 list will be featured in the February 2020 issue of CRN and online at www.crn.com/msp500.