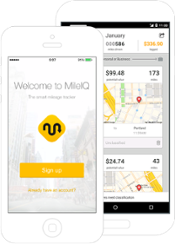 After using paper and pencil, I finally decided to search for an app to make my mileage tracking easier. After much testing, the winner is MileIQ. At $5/month, it's not the cheapest app you'll ever download, but in my opinion, it's worth it.
After downloading the app to your smartphone, it runs in the background. It tracks everywhere you go enters the log into your mileage database. As often as you'd like, you can login to MileIQ on your smartphone or from your computer to see how much you've driven (it will also show you how much you should be reimbursed). A quick swipe of your finger moves each mileage entry into a different category (e.g. work or personal).
A report of your mileage can be emailed to you every month, or you can download any report from the website as often as you'd like.
If you track mileage for any reason, give this app a try.